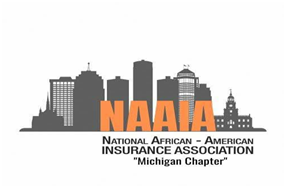 NAAIA Detroit / Michigan Scholarship Award College Entry Form
2023 NAAIA Detroit / Michigan Annual Scholarship
A merit-based scholarship for deserving minority high school students, with a mission to create a more diverse talent pipeline for the insurance industry in the areas of insurance, business, and finance.
About the Scholarship
NAAIA Detroit / Michigan is a non-profit membership organization comprised of diverse insurance industry professionals who volunteer and unite to provide professional development, mentoring, networking, and community outreach.  
We proudly present our annual scholarship award breakfast on May 11, 2023, at the Detroit Athletic Club.
Our scholarship mission is to promote pathways to the insurance industry for minority high school students in Michigan who have career interests in the areas of insurance, business, and finance.  We seek to assist deserving students who exhibit academic achievement and possess a spirit of community service.
Eligibility
A high school senior who meets ALL the criteria listed below:
Is a US Citizen and resident of the State of Michigan

Is a student in good standing with proof of graduation eligibility

Is a minority, belonging to one of the following groups: African American or Black, American Indian, or Alaska Native, Asian American, Hispanic, or Latino, Native Hawaiian or Other Pacific Islander

Has garnered acceptance and intends to enroll at an accredited four-year college or university, or accredited two-year community college during the 2022 -2023 term
Application Process
All applicants must submit a completed application package including the following documents:
One student essay (no more than two pages)

Current, official high school transcript(s)

Two Letters of recommendation from non-family references

Proof of college acceptance

Resume (one page, work and/or volunteer experience)
Selection Criteria
NAAIA Detroit / Michigan will select scholarship recipients through the evaluation of each candidate's:
Academic record
Letters of recommendation
Resume
Essay
 All winners will be notified prior to any public announcement.
Scholarship Award Money
NAAIA Detroit / Michigan will award a minimum of $5,000 in scholarship money. The scholarship money may be awarded to a single outstanding applicant or divided among as many as 4 qualified applicants.  (NAAIA Detroit / Michigan reserves this right). Funds will be paid directly to the college or university for academic year 2022-2023.
Terms and Conditions
In addition to the eligibility requirements, we request that all recipients:
Send a periodic academic progress report as requested (no more than once annually)
Submission & Questions
Return the completed application with all required items as an attachment by April 14, 2023, to: This email address is being protected from spambots. You need JavaScript enabled to view it.
Request additional information by email to Gretchen Cross (President) or Jason Allen (Vice President) at This email address is being protected from spambots. You need JavaScript enabled to view it.